By Jairo Neto – Account Manager and Douglas Cruz – Sales Engineer
In addition to demanding network equipment with high switching capacity, the technology market also demands servers with high processing and storage power. Aware of customer needs, Datacom developed and brought to its portfolio the DM-SV01 server.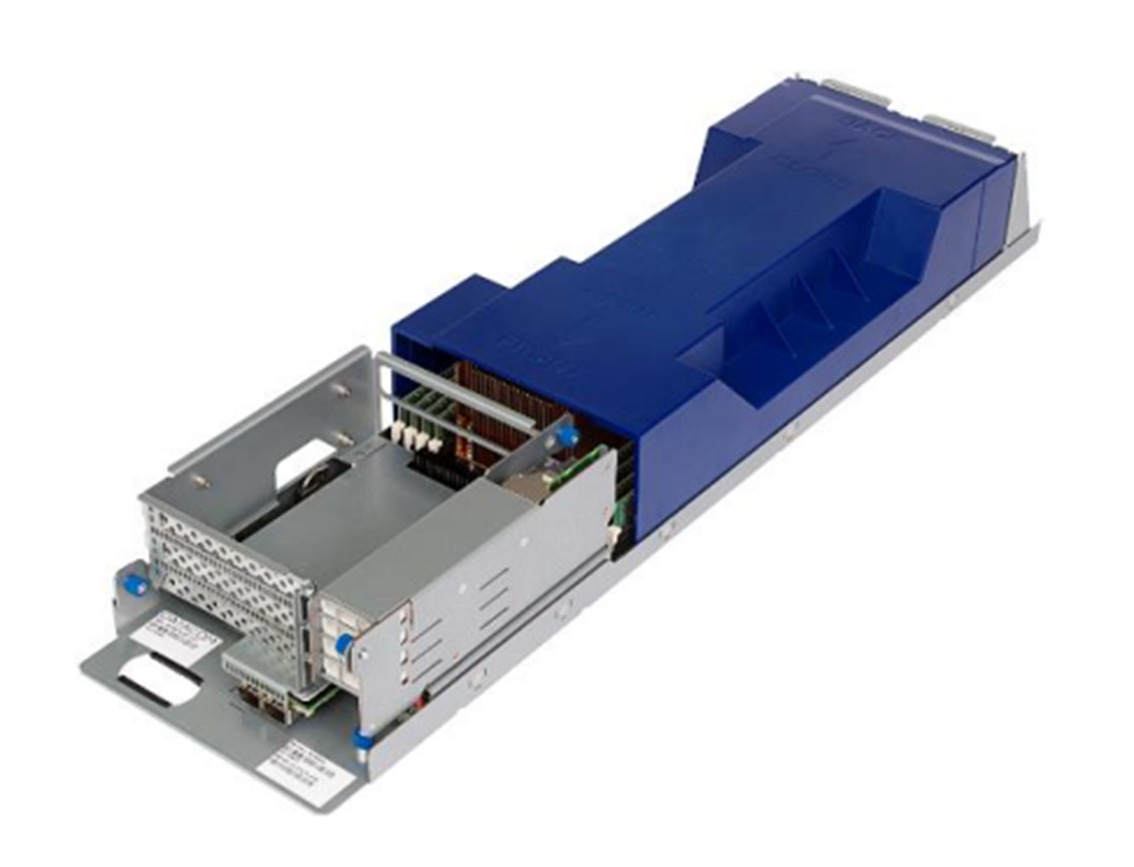 It is a server with a design based on OCP (Open Compute Project) concepts, which brings several optimizations in terms of power consumption and also a significant simplification in the Datacenter operation part.
But what exactly is OCP?
The Open Compute Project (OCP) is a collaborative community focused on redesigning hardware to efficiently support the growing demands on computing infrastructure.
In 2009, Facebook started a project to redesign its Datacenters seeking to reduce costs and energy consumption. A small team of engineers spent two years designing a new generation of Datacenters, achieving a 38% reduction in energy consumption and a 24% reduction in operating costs compared to the company's previous installations.
In 2011, Facebook shared its projects with the launch of the Open Compute Project Foundation. With this, the founding members of the initiative hoped to create a movement in the hardware development market, which would bring creativity and collaboration from players, as is already the case in open software initiatives. Since then, OCP has gained weight and popularity in the market. Nowadays, OCP concepts are already well established in Datacenters around the world.
In summary, we can say that the main advantages of this architecture are:
– Ease of installation: Features a modular and easy-to-maintain design.
– Independent lifecycles: Modular power, storage and processing system, allowing for evolution without the need to change an entire server.
– Energy saving: Design optimized for power dissipation, significantly reducing consumption.
DM-SV01 – OCP Datacom Server
Since its foundation, in 1998, Datacom has always focused on the development of products and technological solutions with high added value. The constant and growing investment in R&D is a mark in its history and, above all, a guideline that sustains its daily actions.
As will be seen in the next paragraphs, the DM-SV01 server represents very well this excellence employed in our projects and manufacturing processes (See the server manufacturing process in this link).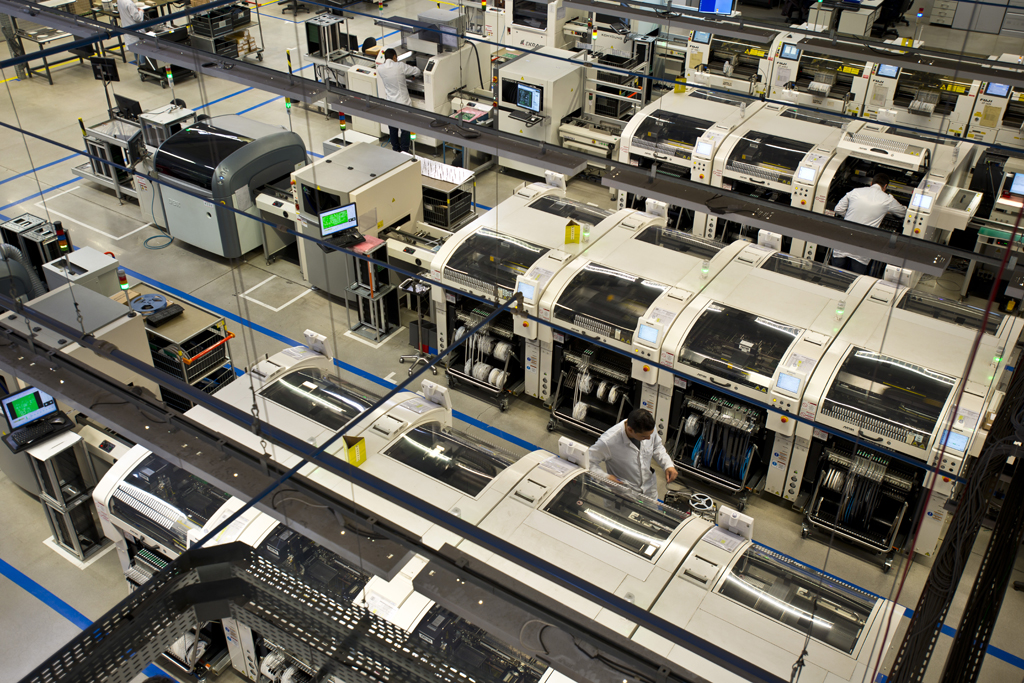 Processor
The DM-SV01 operates with two processors based on the AMD EPYC™ lineup.
With options from 8 to 64 colors, AMD EPYC™ are the most advanced processors on the market. Systems based on this family are number 1 in several benchmarks and present superior performance in applications such as: cloud computing, software-defined infrastructure, high-performance computing, data analysis, among others.
Furthermore, through encryption systems embedded in the hardware, AMD EPYCs also deliver a series of features aimed at implementing systems with high security.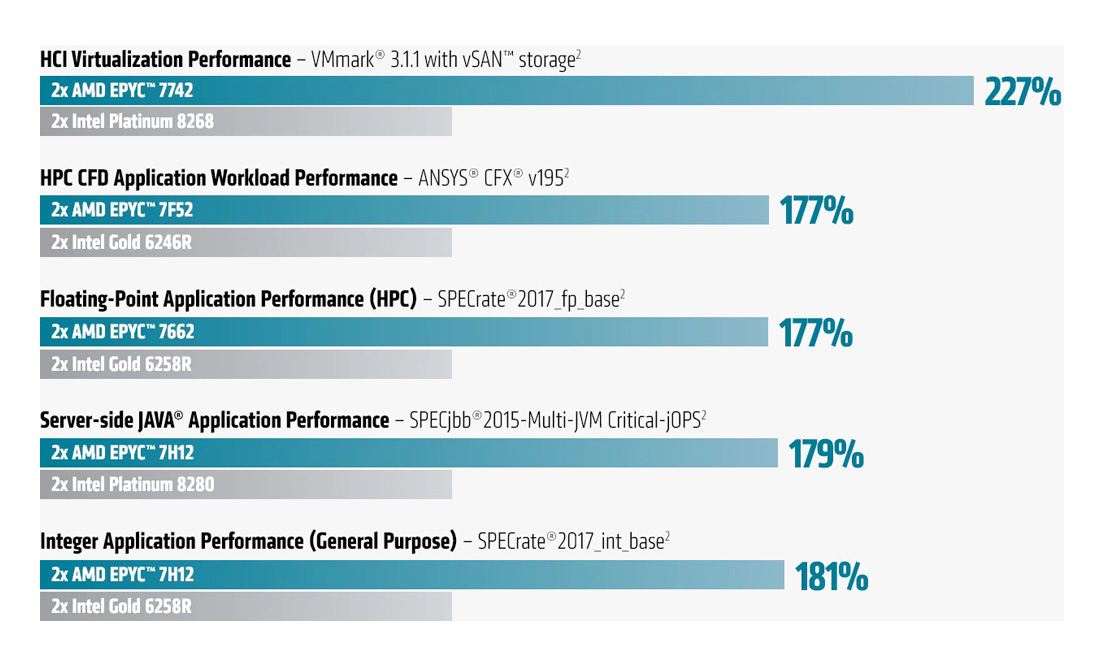 Server Benchmark
Memory
The DM-SV01 can reach up to 4TB of RAM memory, as it has 8 memory slots per processor, which allow it to be equipped with DDR4 RAM sticks at a speed of 3200MT/s.
DM-SV01 without ventilation duct
Storage
Storage is 100% Flash. The DM-SV01 has an embedded 256GB or 512GB M.2 NVMe disk for Boot, and also a module for up to 4 E1.S SSDs, a high-performance technology that allows hot-swap.
In addition, the server can be equipped with up to 3 PCIe x8 cards with capacity for two E1.S NVMe disk SSDs with 4TB each.
All management of HDs is via software allowing multiple RAID configurations and eliminating the physical controller as a single point of failure.
Network
The DM-SV01 accepts network interface cards with 2x 25Gbit/s SFP28 ports, 1 50Gbit/s QSFP28 port or 1x 100Gbit/s QSFP28 port.
The SFP and QSFP ports can be connected with copper cables, without the need for optical modules, reducing cost and energy consumption.
Management
System management is done through OpenBMC (Open Source Board Management Controller Project).
The Server can be connected to the Datacenter management network through a Gigabit Ethernet port on the front panel or via NC-SI through the OCP Mezzanine NIC interface for out-of-band management.
1904 chassis for standard 19" rack
One of the great differentials of the DM-SV01 is that it can be installed in three units every 20U in OCP Racks.
Optionally, it can be installed in standard 19" Racks through the DM-SV Chassis 1904, which holds 4 servers in 4.5U height.
Following the OCP standard, the Datacom Chassis has centralized power supplies installed on the back, delivering a 12Vdc bus for the 4 server slots.
The slots for the DM-SV01 servers are located on the front face of the mechanic, so cabling and maintenance are done in the cold aisle.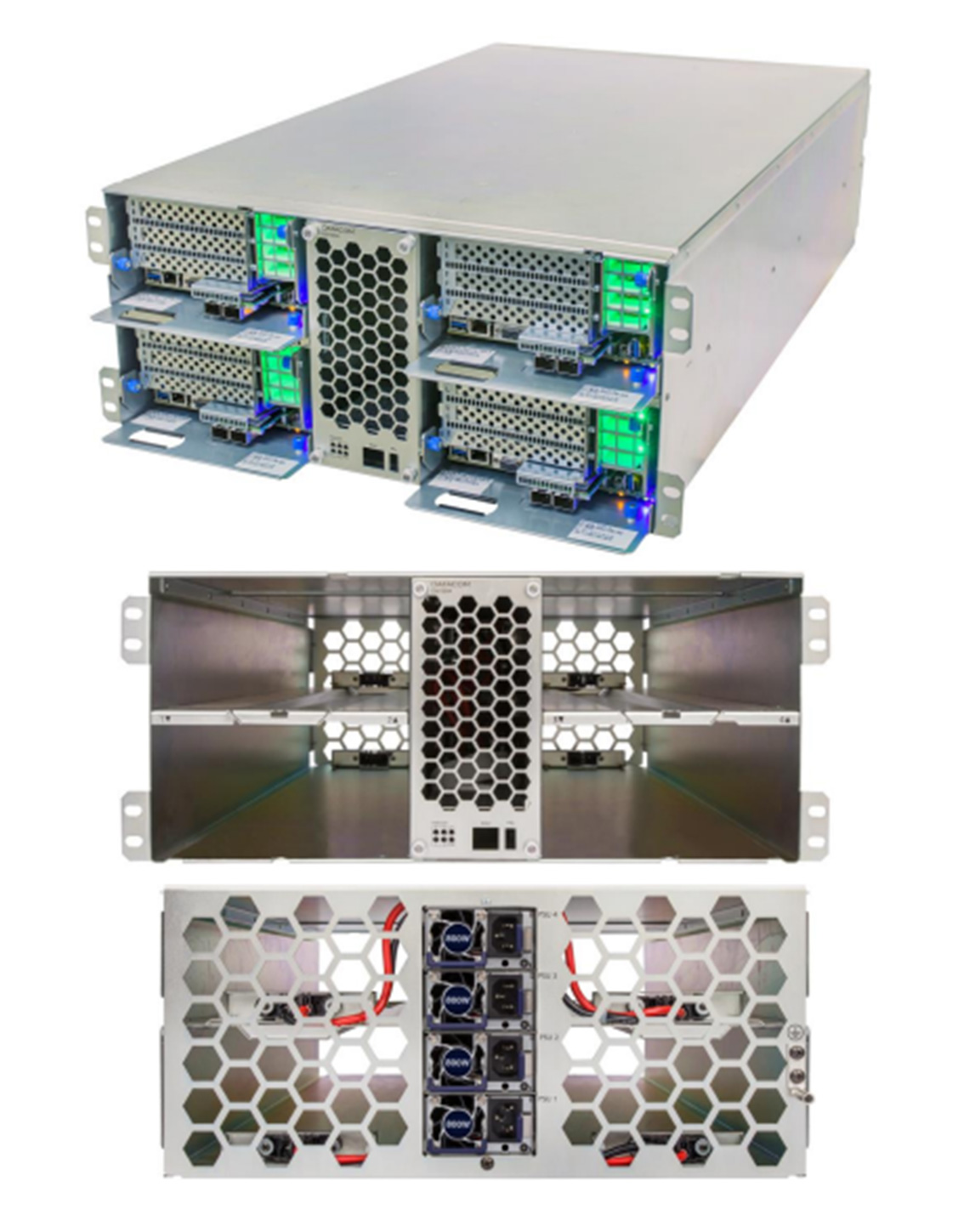 Applications
Initially created to meet the demand of large data centers, OCP servers are suitable for all companies that need computing capacity for their business.
With software-defined datacenters, the rise of IOT and Edge Computing technologies, the application of this concept has gained increasing strength around the world.
The revenue generated by the adoption of solutions by non-OCP board members in 2018 surpassed the 2017 forecast, reaching $2.56 billion. The forecast was $1.84 billion, with year-over-year growth of 120%. And the projection is that these values will increase to $10.7 billion in 2022.
Corporate
Thinking about a corporate environment where the datacenter needs high availability, it is possible to use a configuration of two servers to ensure redundancy.
For companies that need a large volume of storage (engineering, designer, development departments, among others) we have the option of external storage with JBOD (Just a Bunch of Discs), which are boxes of 24 and 60 mechanical disks of 2 ,5' or 3.5', and can be used as a repository or transformed into storages through market software (SDS).
Another highlight is that OCP encourages companies to build data centers in a DIY style, considering the possibility of creating open source projects.
Telecom
With connection values falling year by year and the growing demand for solutions that meet the Edge Computing concept (very low latency), an alternative to add value to the portfolio is to offer cloud services.
With an architecture of total redundancy, scalability and high processing power, ISPs can offer their customers new services, such as cloud computing, backup, virtual machines, among others.
To exemplify the scenario described above, a business case that our partner INT6 implemented at Bitcom is available at the link below (Link to the case study).
Datacenters
The above alternative also applies to data centers as the OCP concept reduces many costs and offers greater energy efficiency when compared to proprietary hardware solutions.
For questions and request a proposal, contact the Datacom sales team. We are available to help you choose the most suitable product for your needs.
To stay informed about our news, also subscribe to our YouTube channel, schedule notifications and share the link on your social networks.