By Guilherme Pfeiff – Network Applications Engineer and Guilherme Salvadori – Sales Engineer
The MPLS protocol has been increasingly used in the backbones of operators and ISPs (see article 5 reasons to use MPLS at your provider), however, this infrastructure was not always planned to be dual stack (IPv4/IPv6).
In other cases, equipment already on the network may not be IPv6-compatible, which makes it difficult to carry IPv6 customer traffic over the existing IPv4 MPLS backbone, with the cost of changing all equipment to allow for the dual stack it may even make the business unfeasible.
One of the techniques that can be used to solve this application is the 6VPE functionality, which is regulated by RFC4659 (BGP-MPLS IP Virtual Private Network (VPN) Extension for IPv6 VPN), which allows announcing IPv6 prefixes in VPNs over an IPv4 MPLS core , using LSPs (Label Switch Paths).
Application Example
In this article, we present a practical scenario involving transporting data from 3 IPv6 sites over an IPv4 MPLS core. In this example, we are using Datacom DM4770, DM4170, DM4270 and DM4370 equipment, but it is possible to interoperate with equipment from other manufacturers that support the same functionalities.
Below is the topology of the practical scenario: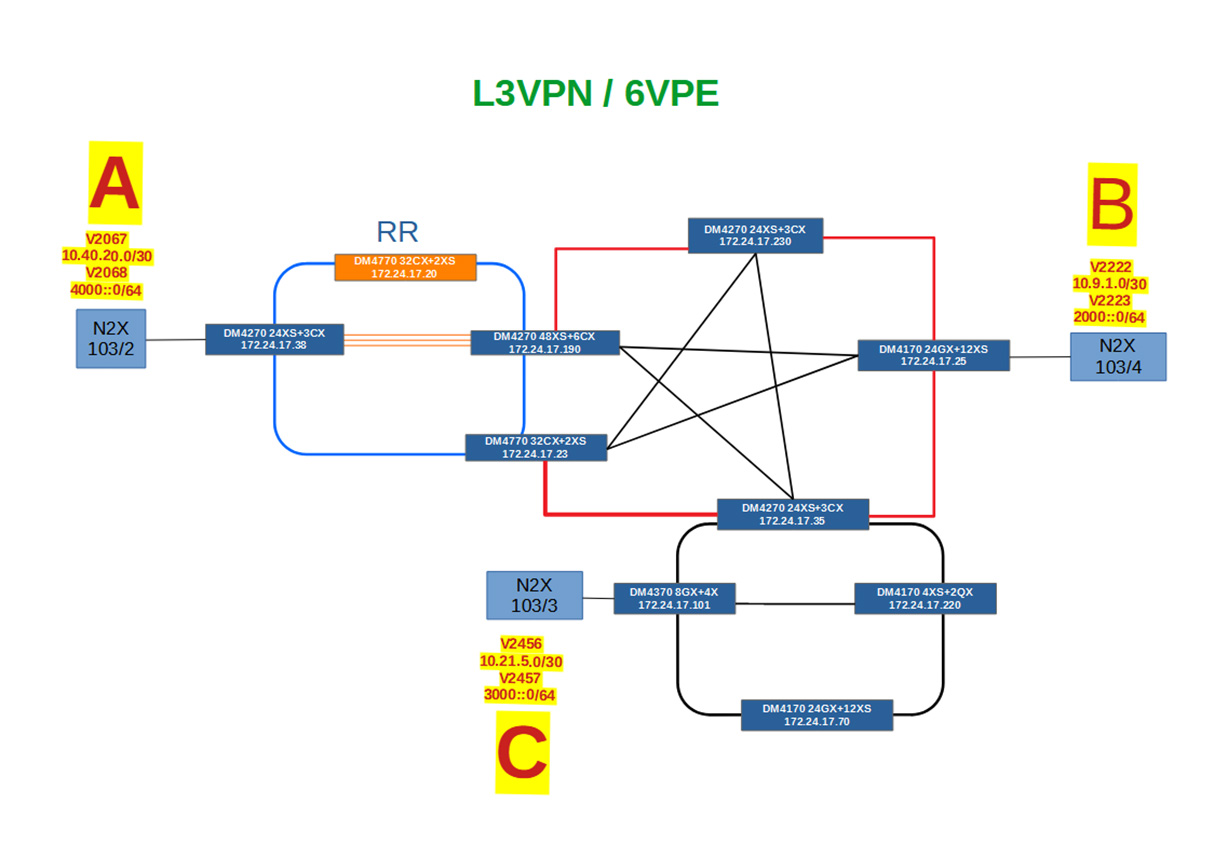 OSPFv2 Infrastructure
In this section we will configure OSPFv2, which is the IGP used in the internal infrastructure to route addresses. (To route customer addresses L3VPN uses bgp). Below is the OSPFv2 configuration: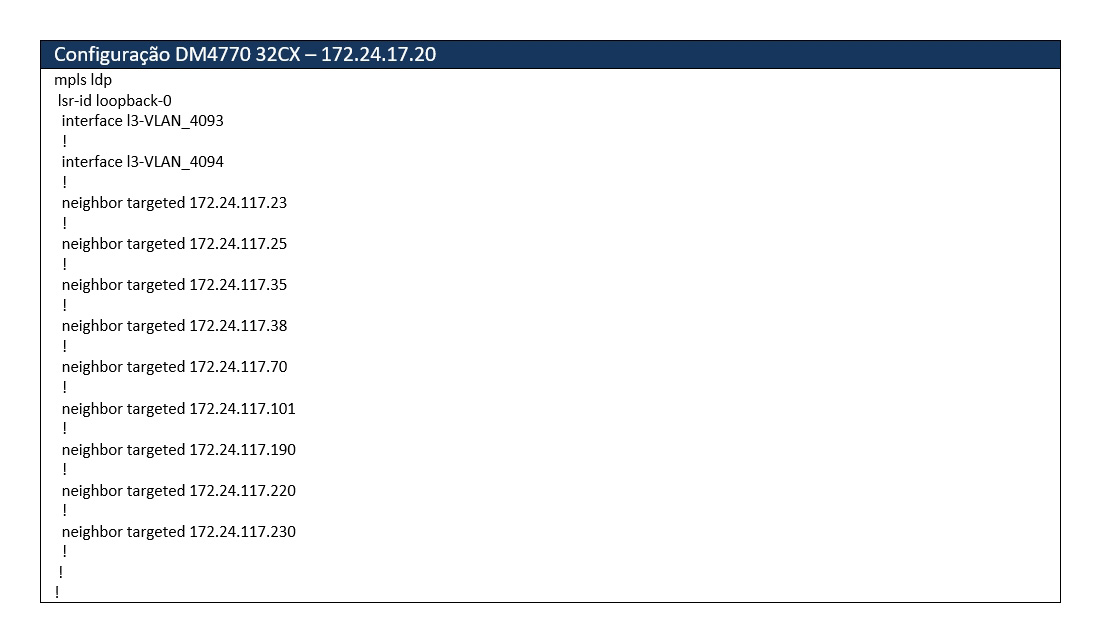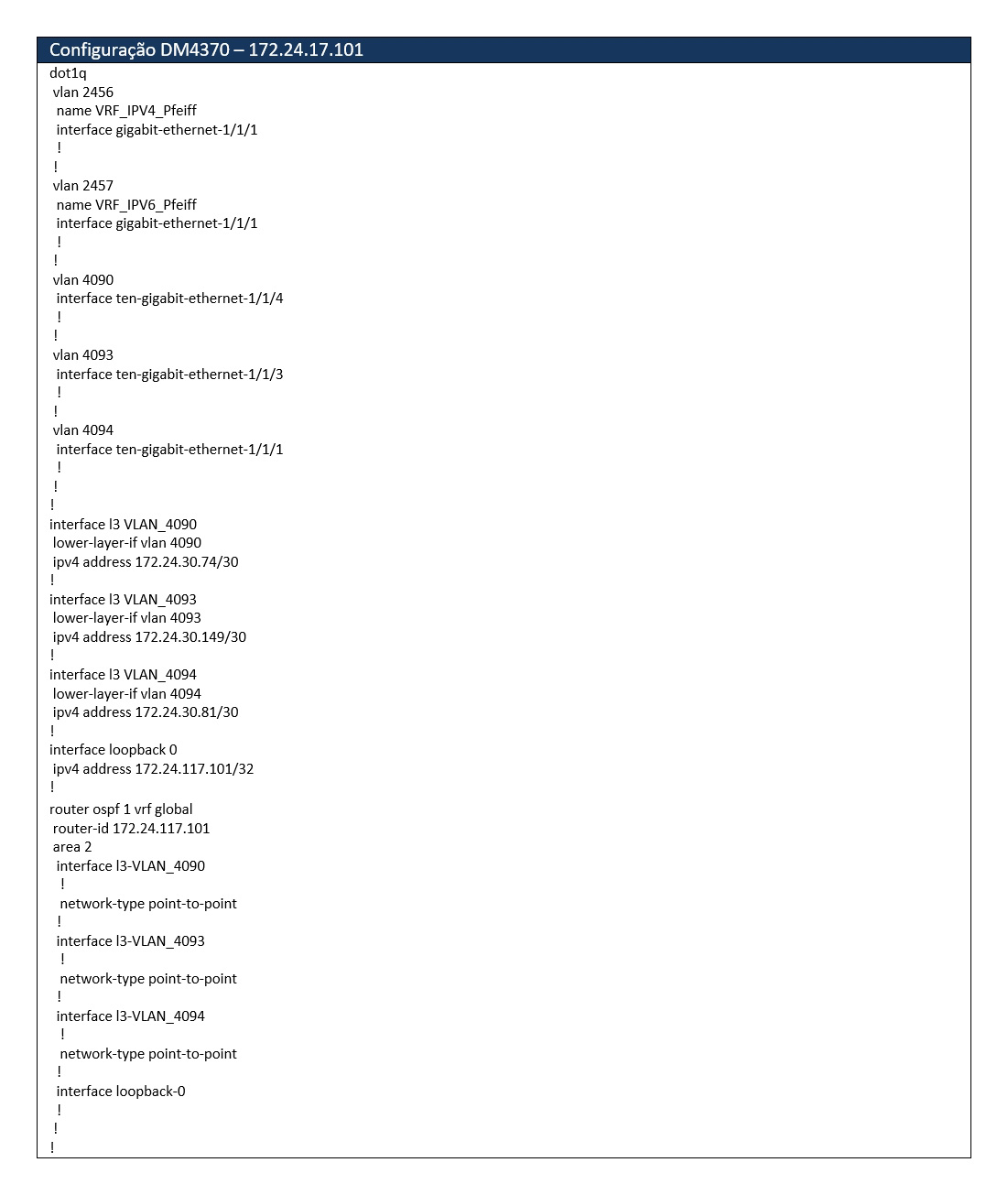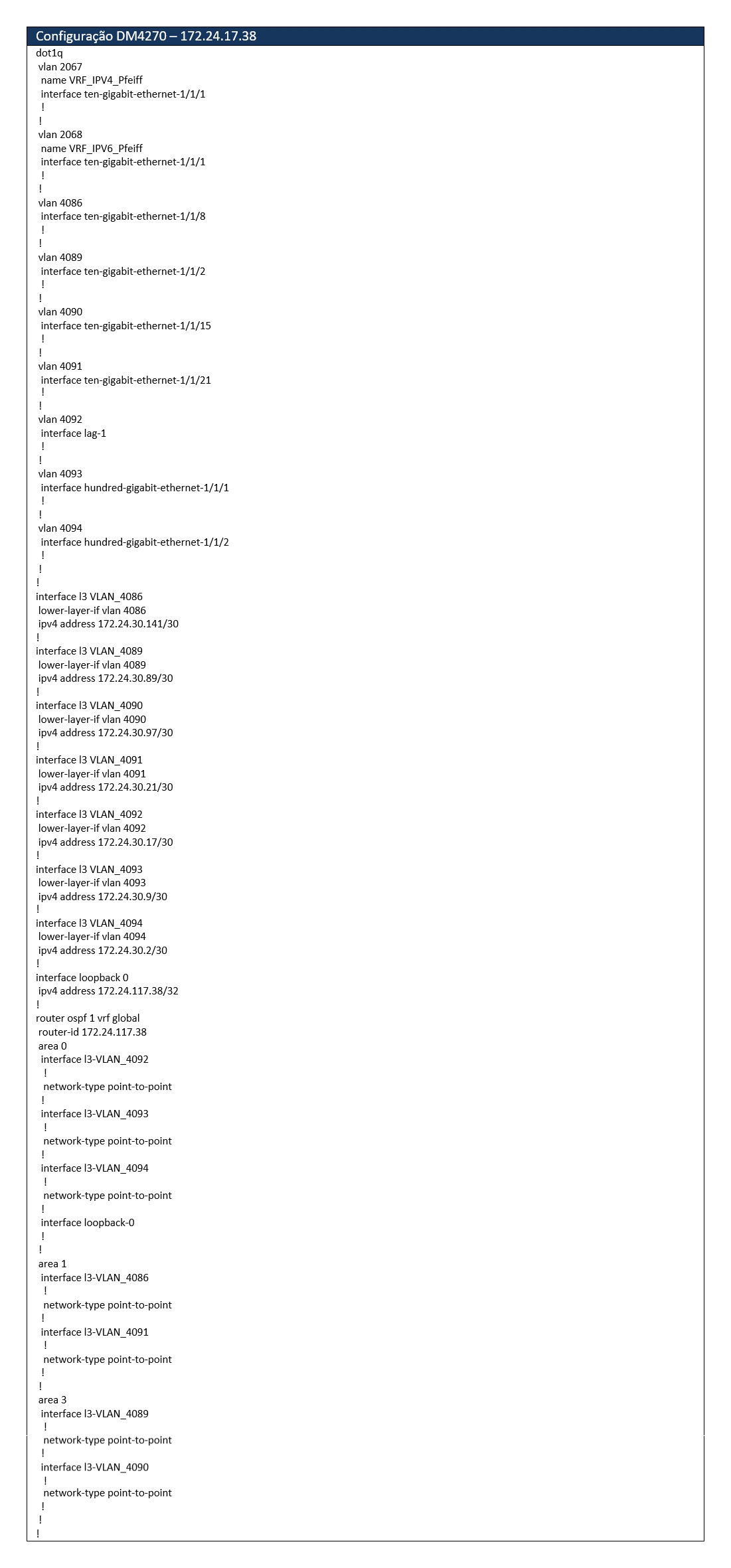 MPLS LDP Infrastructure
L3VPN requires LDP settings to exchange labels. It is necessary both the link session, which is the configuration on the L3 interface with the equipment's direct neighbors, and the targeted session, which is with the equipment with which it will actually have an L3VPN. Here in the example, all loopback IPs of the devices in the scenario were inserted, but if there were only data exchange between points A, B and C, a targeted session could only be configured between devices in these 3 points.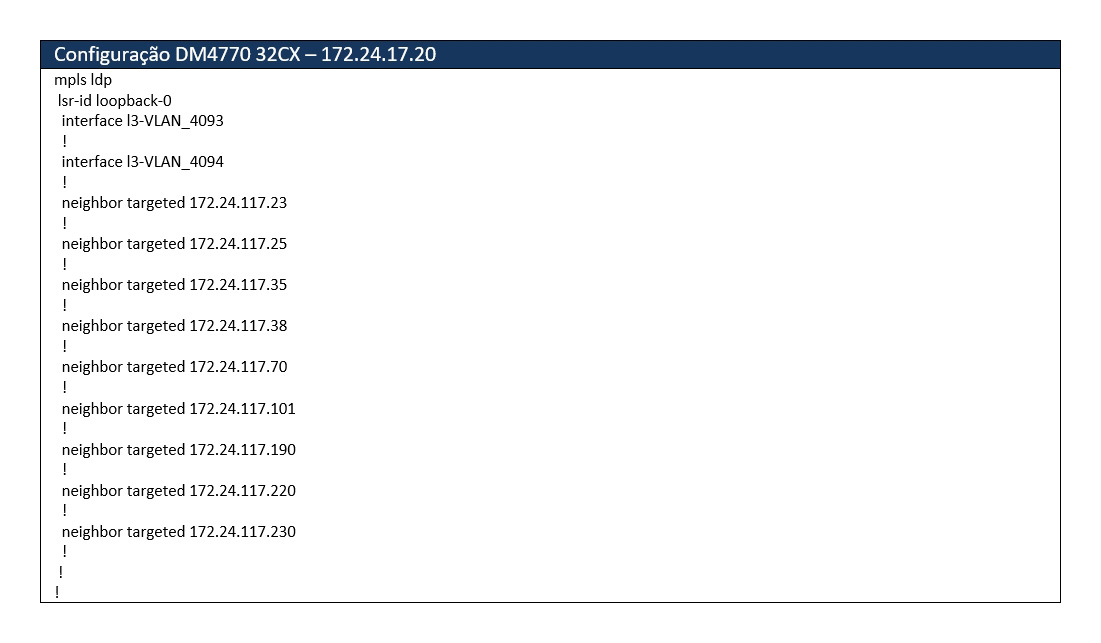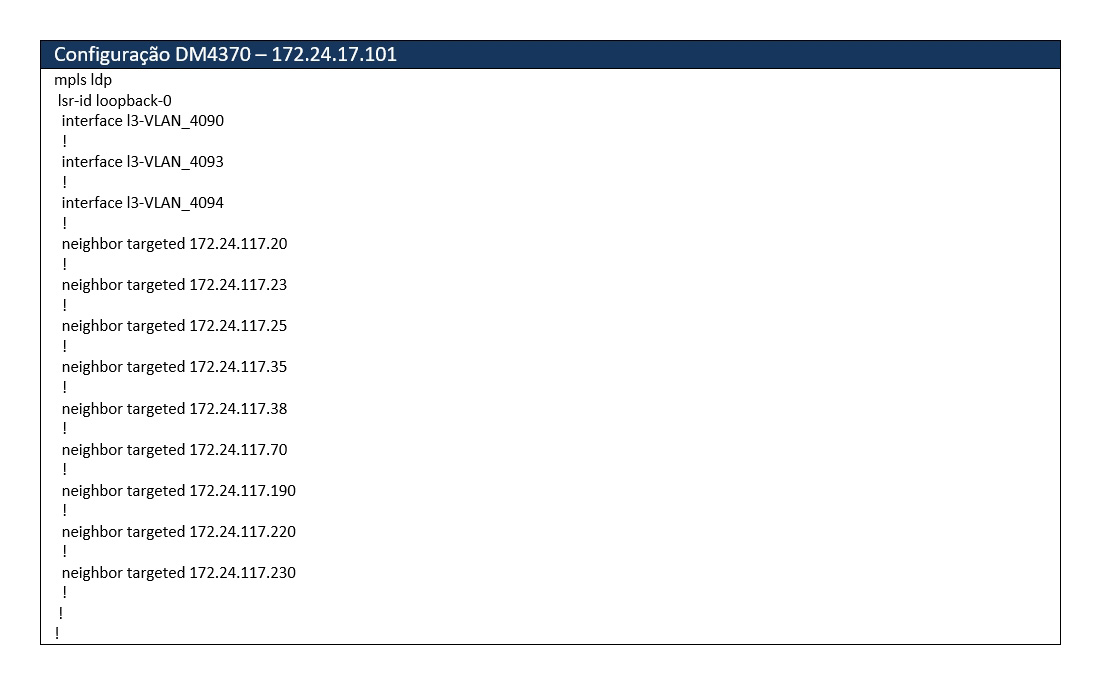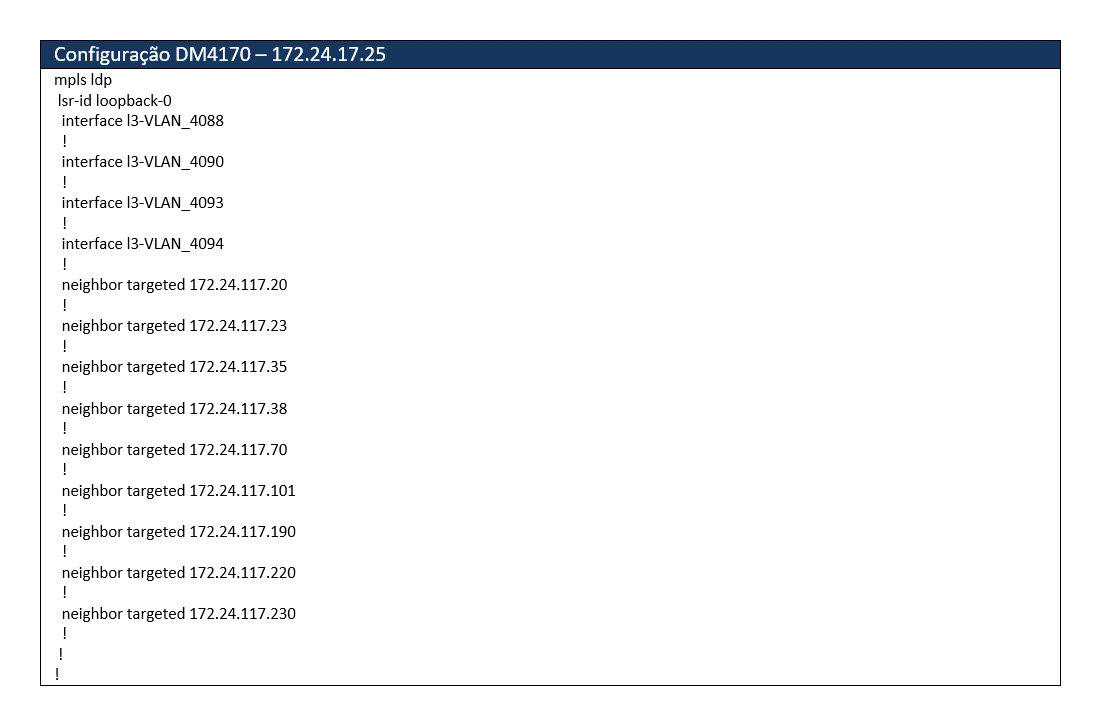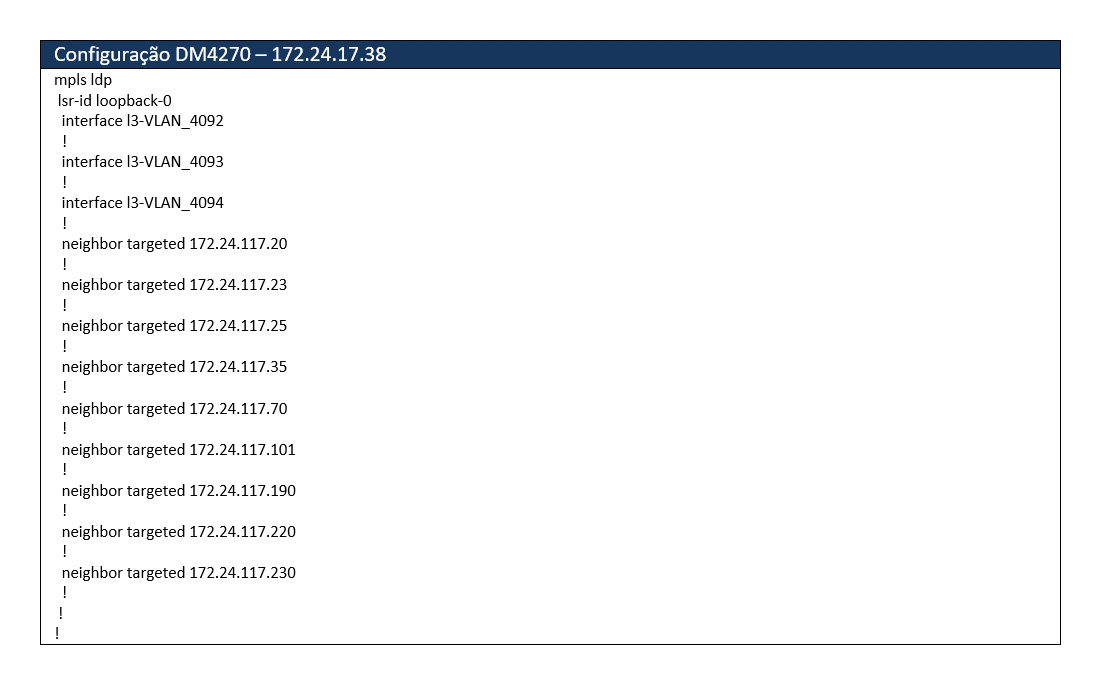 BGP Infrastructure
The BGP protocol is used to route customer networks. All equipment that is part of this infrastructure only close a session with the equipment or equipment defined as Network Reflector Router, they are responsible for disclosing these routes among all neighbors. With the use of VRFs, it is possible to serve different customers using this same BGP infrastructure without their networks being mixed and they can even have network overlap, as the tables are separated.
Remembering that this internal infrastructure to route customer networks uses iBGP, in the point-to-point link with the customer, static route, OSPF or eBGP can be used because then it will be a session between 2 different "AS", that of the customer that will be answered and that of the provider or operator that is providing this service.
In the RR (Router Reflector) settings we must close the BGP session with everyone, and on clients only with the RR, enable the address-family vpnv4 and vpnv6 for 6VPE and disclose the desired VRFs.
6VPE is enabled through the command "address-family vpnv6 unicast". Below are the BGP settings: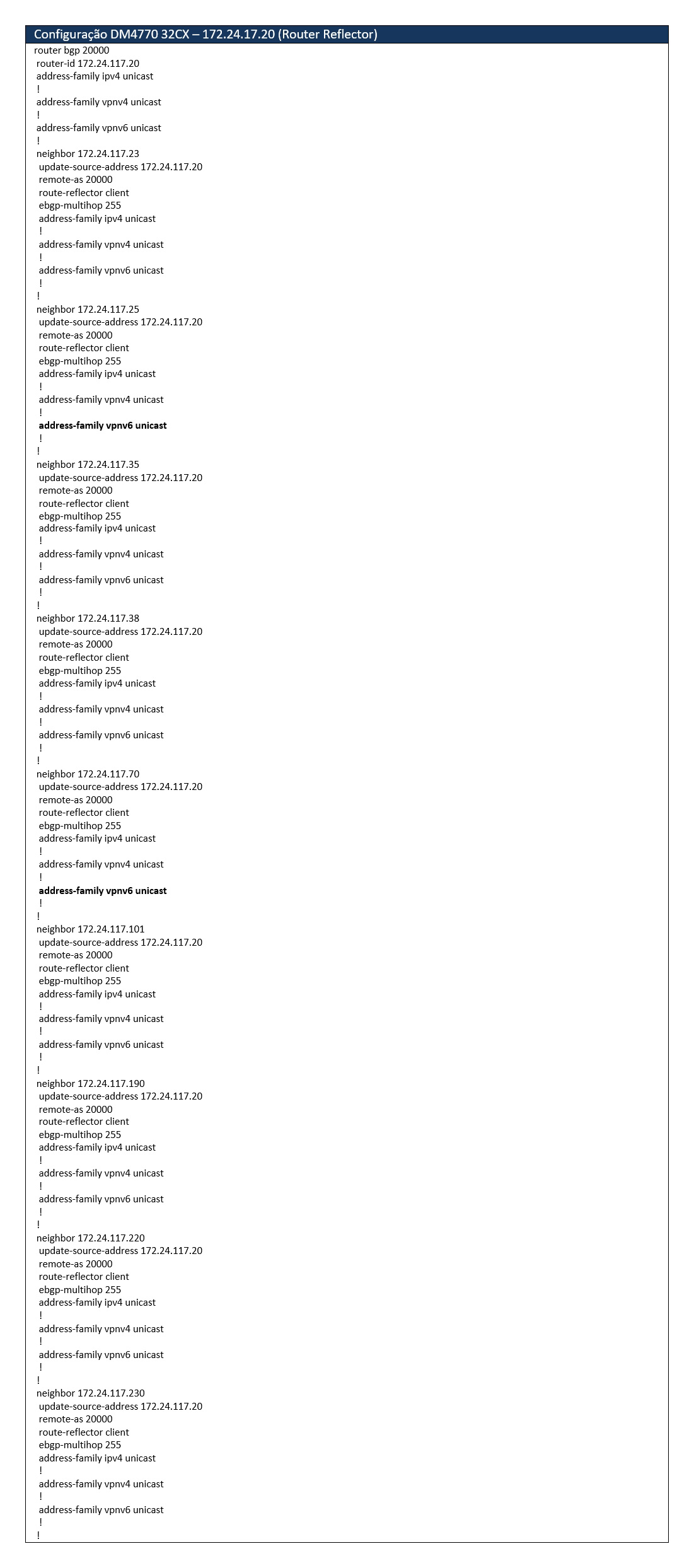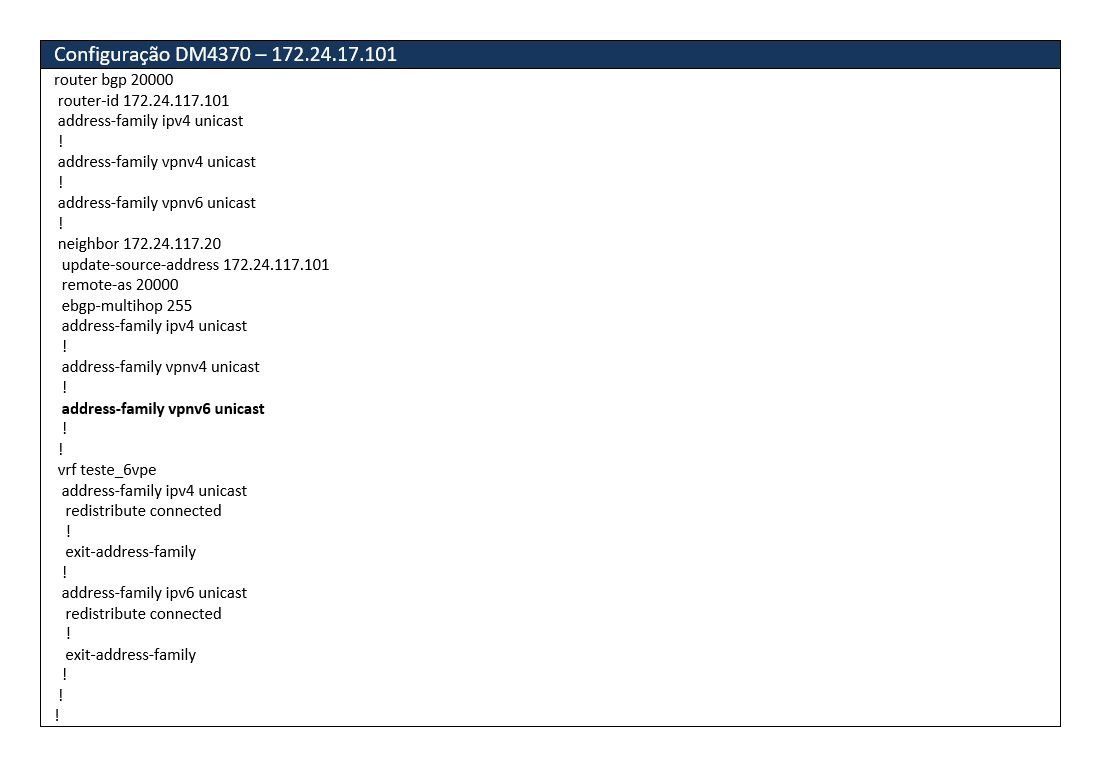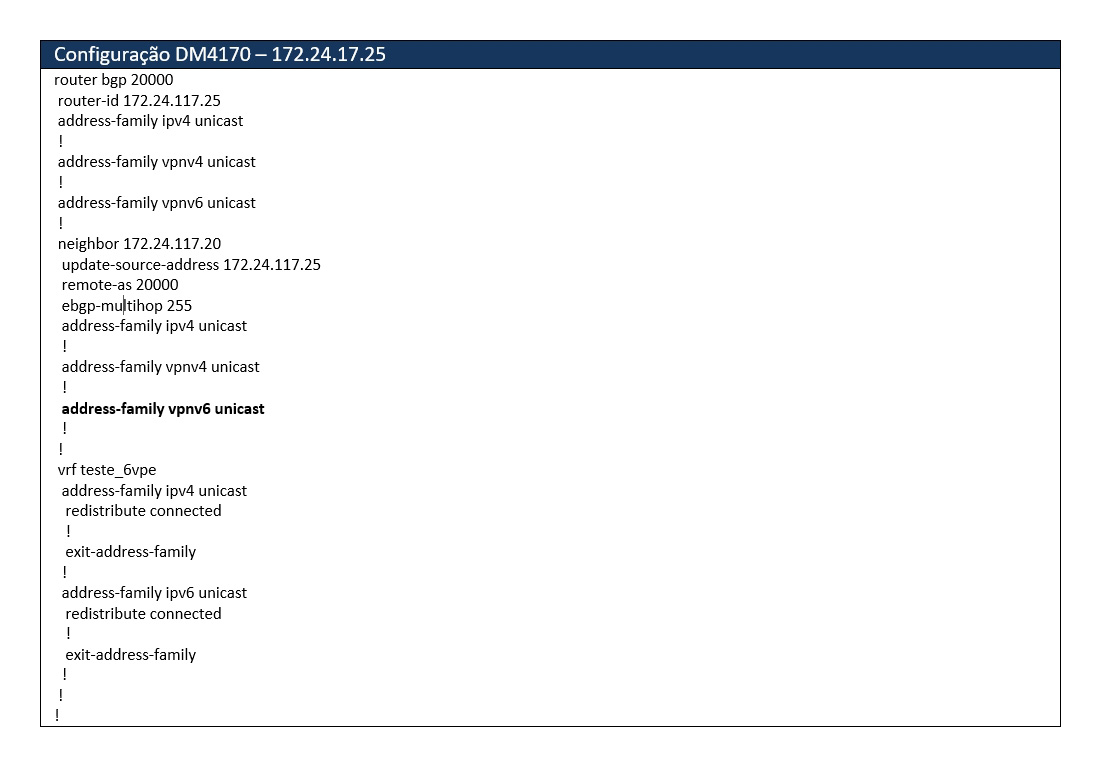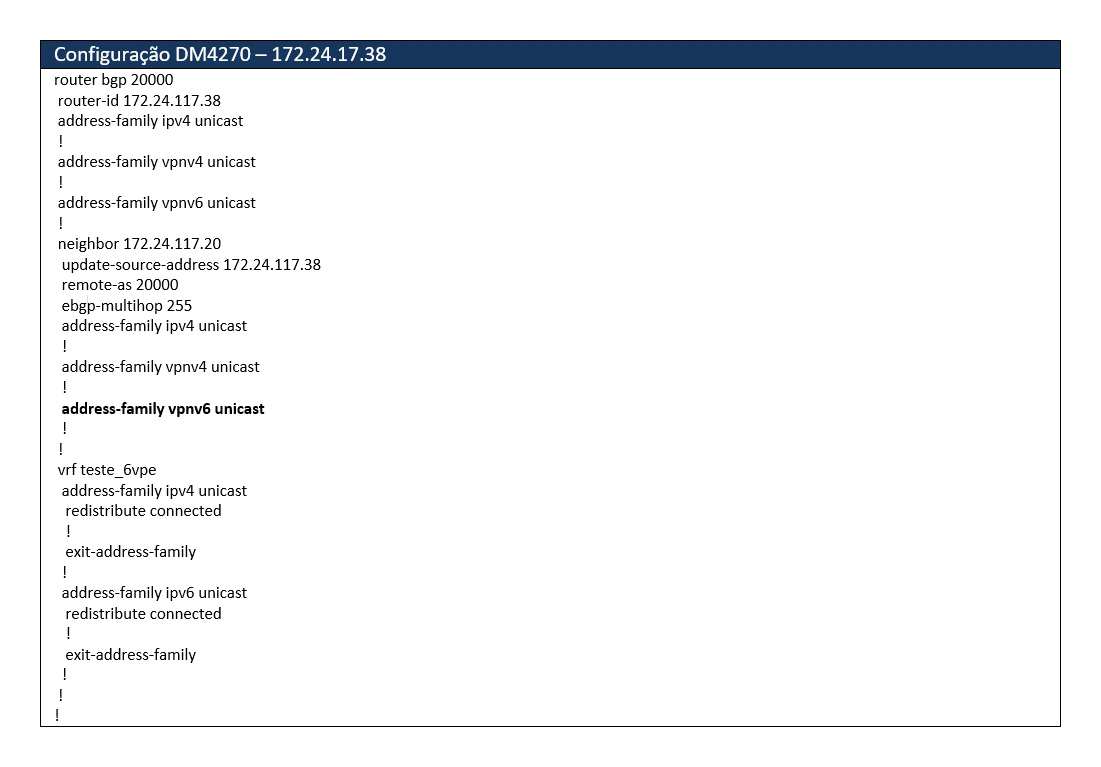 VRF
VRF will be responsible for the isolation of the networks, in this way the customer's network and the infrastructure network used to provide the customer's services do not mix.
It is not necessary to configure VRF on the DM4770 32CX switch that is the Reflector Router of the network, since this equipment does not have any client access directly connected to it.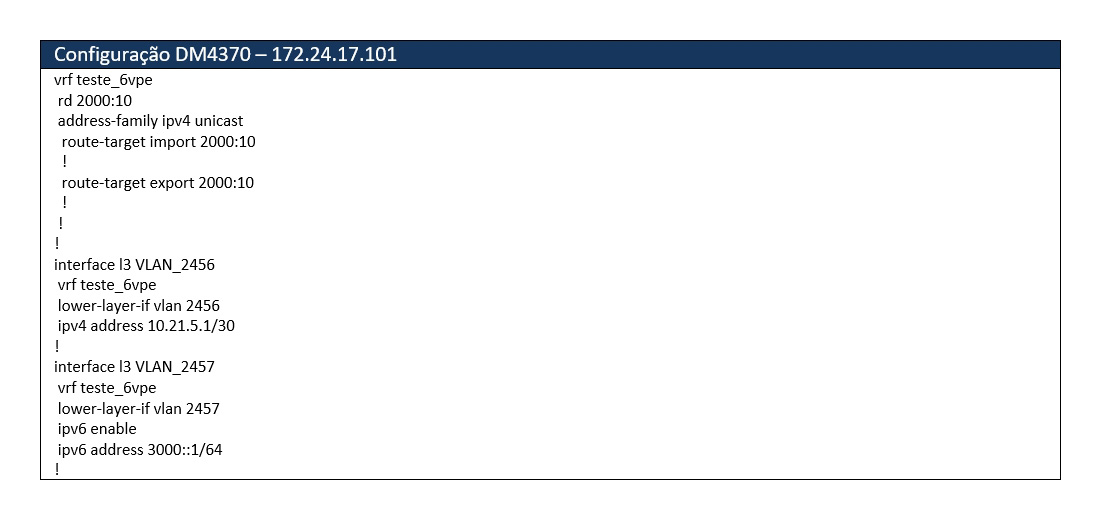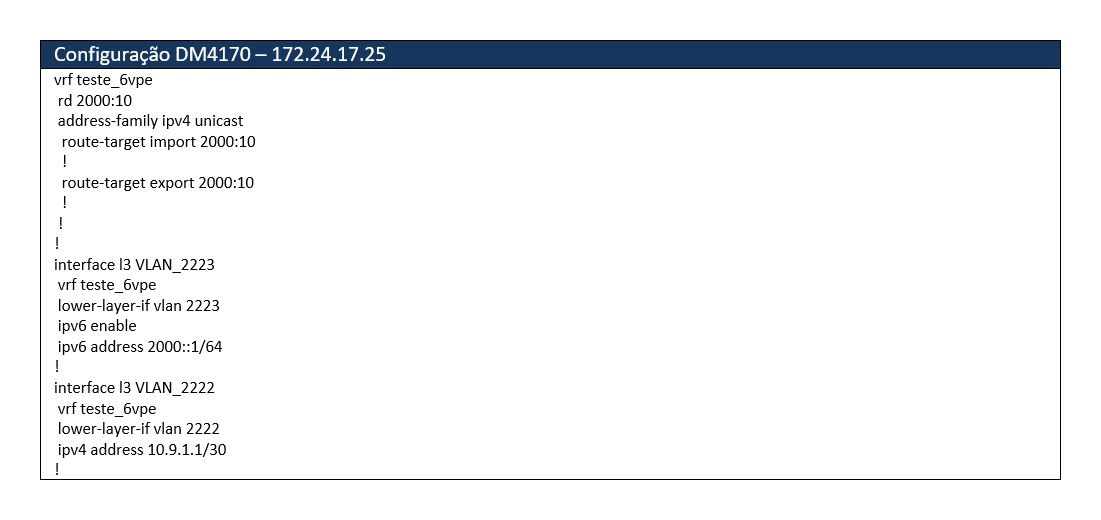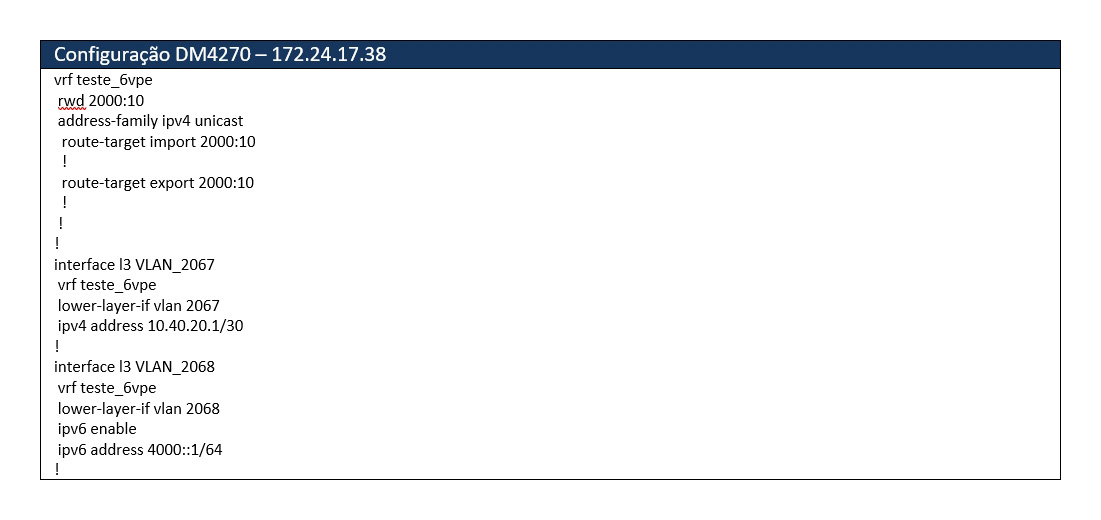 DmOS software is always evolving, this 6VPE functionality is available from version 7.0 onwards. This feature is on all MPLS switches that use DmOS: DM4360, DM4370, DM4170, DM4380, DM4270 and DM4770.
In addition to the products mentioned in this article, Datacom has an extensive line of equipment that includes Switches, Routers, GPON, Wi-Fi, Management System and Servers.
If you have any questions about applications, please do not hesitate to contact our support suporte.prevendas@datacom.com.br. We are available to help you choose the most suitable product for your needs.
Follow our blog, we always bring product news and technical content relevant to your business.
In order to serve its customers and train professionals who work in the operation of networks, Datacom also has an online training platform with free access! The platform address is ead.datacom.com.br.
Subscribe to our Youtube channel, schedule notifications and also share the link on your social networks.
For questions and request a proposal, please do not hesitate to contact the Datacom sales team: comercial@datacom.com.br (+55) 51 3933 3000.