On the 30/11/2021 the OCP Datacom server, the DM-SV01, was approved and received the official certificate for Windows Server 2016 and Windows Server 2019, as can be seen in the images below.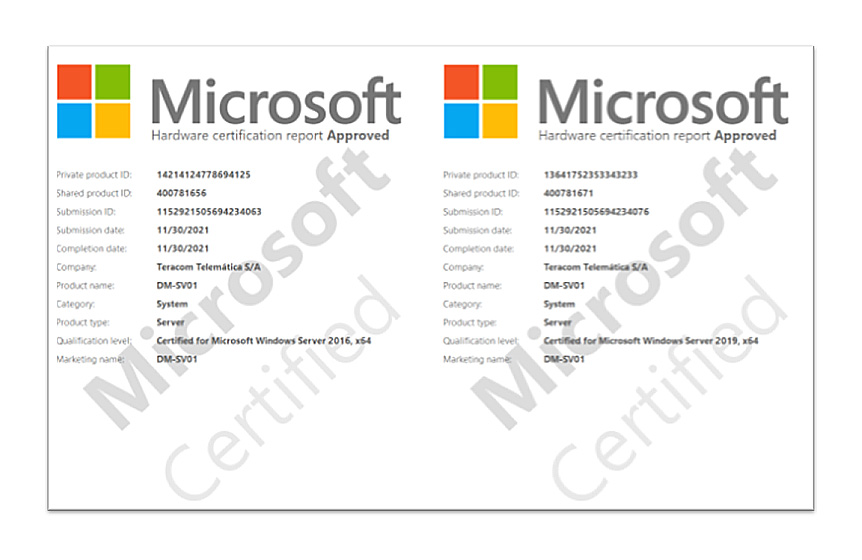 The "Certified For Windows Server" seal demonstrates that a server system meets the highest technical standards of Microsoft in terms of security, reliability, and management capability. That is, along with other hardware components and certified drivers, the DM-SV01 supports functions, resources and interfaces for cloud workloads, corporate as well as essential applications for the most varied businesses.
According to Carlos Costa, IT manager responsible for conducting certification "having the first certified server means for Datacom to be at the level of competitiveness against the largest hardware development names in the world."
For more details, the certificate hardware information is available in the Windows Server catalog and offers everything that is needed to make decisions about product compatibility.
It is worth mentioning that Datacom is working, already at the end stage, to also reach the Windows Server 2022 certification.
If you are not familiar with the product and want to know a little more about the DM-SV01 resources and applications, read the article "OCP Servers: High Performance, Open Source and Modularity for Your Datacenter", available on the blog.
For doubts and request for proposal, contact the Datacom trading team. We are available to assist you in choosing the product most appropriate to your need.
To be informed about our news, also sign up for our YouTube channel and mark the receipt of notifications.