By Estêvão Rohr – DmView Product Manager
Datacom has a complete GPON line for Internet Service Providers (ISP), with OLTs and ONUs of different densities and characteristics.
Managing a network with multiple OLTs and ONUs is an activity that requires considerable uptime. Identifying the overall situation of the network, finding a specific ONU, and quickly checking data from a particular ONU where a call is being made can take a long time without a centralized management solution.
DmView, management software for the entire Datacom product line, which manages via CLI, NETCONF, SNMP, and soon also TR-069, has a dedicated ONU management screen that displays all ONUs. hundreds or tens of thousands. This makes it possible to practically monitor the ONUs and find the desired ONUs by a set of more than 40 different parameters. DmView performs ONU activations quickly, whatever the scenario, in quick operation in a single configuration pass. The search or activation operations of a particular ONU can be reduced from minutes to seconds.
The screenshot below shows part of the data presented on the screen of ONUs.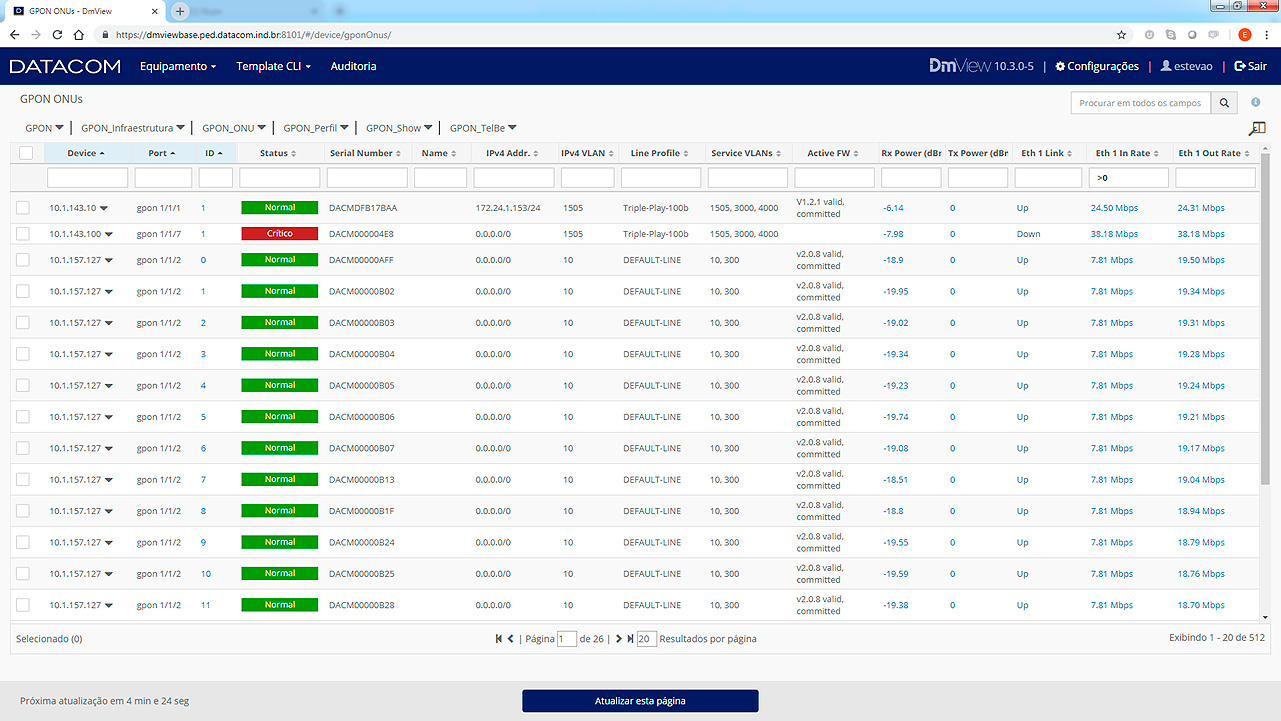 In this screen, several ONU parameters are available, such as name, model, traffic, link (up / down), serial number, status, configured band, profiles, etc. Each system user can customize the screen to their needs by choosing which columns to display and in what order. These options are saved in the browser by DmView, so that in daily operation each user sees the screen as they have customized it.
Searching for ONUs is very practical, just start typing the desired term in any of the columns (or in the "Search for All Columns" field), and the ONUs are already starting to be filtered. As a result, typing a few characters generally finds the ONU among tens of thousands of ONUs. You can also use comparative searches: for example, search for <-20 in the optical power field, and even use traffic rates (example: search for> = 1M in the input rate field). It's also very easy to find failed or discovered ONUs by searching the Status field.
The ONU screen allows, in addition to viewing, searching and monitoring, the configuration of the ONUs. You can quickly and flexibly enable and disable services for bridge and router ONUs, profiles, restart, or perform ONU firmware upgrade through the actions menu above the table, from which any scenario can be configured in a single step.
Initially, the available menus correspond to all GPON scenarios for which DmView has a factory-installed default template. By clicking on one of the actions, a simple and objective form is presented, asking the user only the parameters that must be defined by the operation, including a preview of the CLI commands that will be sent.
The screenshot below shows an example of this setting for the ONU bridge activation scenario: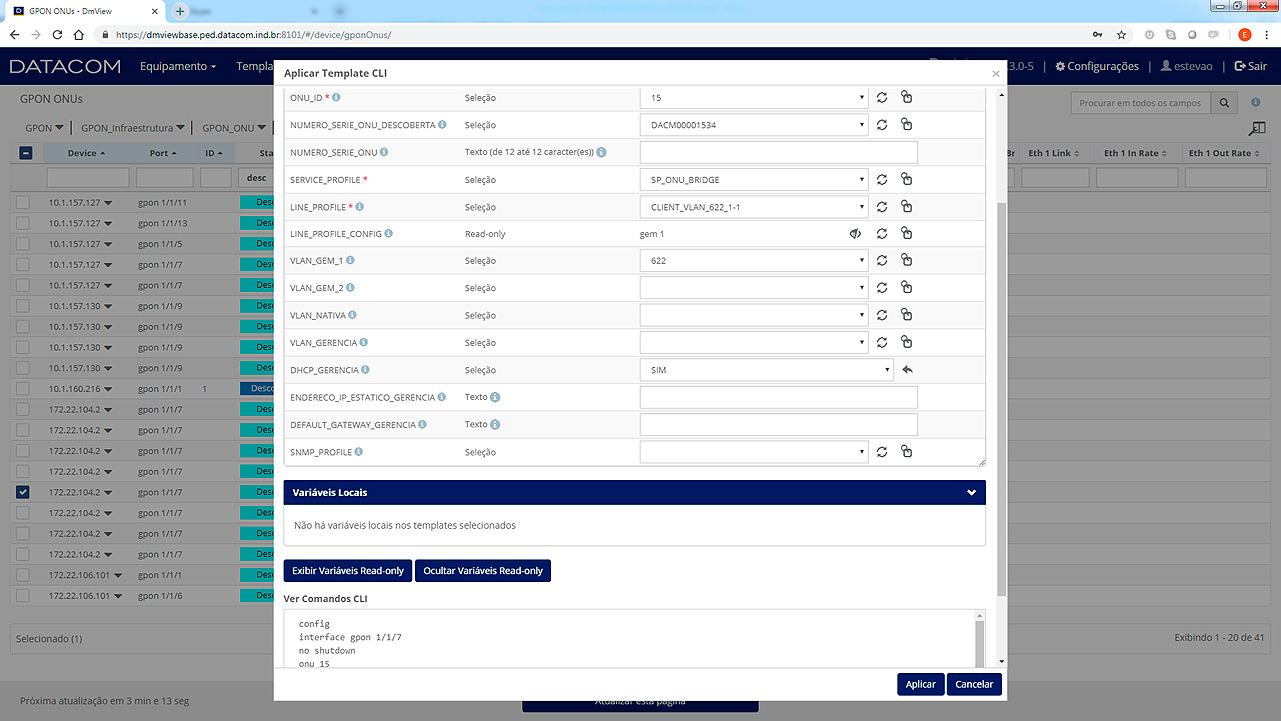 The actions available are based on the existing CLI templates in the system, so the actions menu can be customized by the user. In any custom CLI template, other than the factory default templates, simply include a keyword containing the word GPON. Once configured in this way, these templates also appear in the ONUs screen menu. That is, the user can define their own custom menu, with any action on OLTs and ONUs defined in a CLI template, available directly from the ONUs screen.
The functioning of the ONUs screen can be tested in the online demo version of DmView (user: administrator and password: administrator).
DmView has many other features for network management, including automation of any scenario through CLI templates, status, faults (alarms and traps), configuration, auditing, inventory, discovery, topology and network monitoring, as well as north-bound interface. (REST APIs) for integration with other systems. If you are interested in getting more information on the subject, Datacom has a complete structure where face-to-face training is offered at its headquarters in Eldorado do Sul (RS).
In the training you will be able to know details of the tool, as well as manipulate equipment, configure various topologies and application scenarios in a complete laboratory environment. In addition, you will be assisted by our professionals by receiving a number of good practices that will greatly assist you in operating your network.
If you are interested in these applications, do not hesitate to contact our suporte.prevendas@datacom.com.br team. We are available to assist you in choosing the product that best suits your needs.
For more information and request for proposal, please contact our Datacom sales team: sales@datacom.com.br (+55) 51 3933 3000.
Subscribe to our Youtube channel for updates and news for the ISP sector, mark the receipt of notifications and also share the link on your social networks.